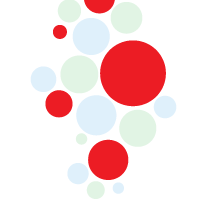 What to expect
The HIV clinics are for patients already diagnosed with HIV. If you are concerned you may have HIV and would like to test find out more about clicking here.
Routine clinic visits are 3-4 monthly. Sometimes you need to be seen more often, depending on your needs. At the clinic there is a range of professionals available to help you. In addition to addressing your HIV, we can help you if you are having relationship problems because of your HIV; having difficulty telling your partner about your HIV; if you think you have picked up an STI; post exposure prophylaxis (PEP), should a condom accident occur; if you are planning to travel to a foreign country or if you are thinking about having a baby or want to make sure that you don't get pregnant! Please feel free to bring up any concerns that you have with a member of the GUIDE team.
Staff Nurse
The team of staff nurses will check your blood pressure, weight and urine before you see the doctor. For women attending the clinic, the Staff Nurses keep a track of when you need a cervical smear and they will discuss this with you and arrange for it to be done during your clinic visit.
Liaison Nurse
The team of Liaison Nurses work with you and provide you with their expertise and support if you are having difficulty with your medication or getting to the clinic. If you also attend other clinics or hospitals they can, with your permission, liaise with them to make sure that together we can provide you with the best possible service.
Vaccination nurse
Vaccination is an important part of HIV care. The vaccination nurse co ordinates the vaccination programme and keeps a track of when you need vaccinations.
Pharmacist
Pharmacists will dispense your medication and can advise you on dealing with any difficulties you have taking them. It is always helpful to come to clinic with a list of any other medications you are taking.
Medical social worker
Provide information on social/housing issues as well as providing a supportive role to patients who need counseling for many reasons eg disclosure issues, asylum seeking, domestic issues, relationship issues.
Phlebotomist
At most of your clinic visits you will have blood tests performed to monitor your progress. We are really lucky to have our own phlebotomy service within the department so you don't need to leave the department to have your blood tests taken.
Doctor
Each visit is an opportunity for you and your doctor to discuss and check your progress. It is helpful for your doctor if you know the names of any medication that you are taking and it is a good idea to make a list of concerns or queries that you have before coming to the clinic.
Dietitian
The Dietitian can give you advice about food and nutrition. For example they can help if you want to lose weight, if diarrhoea or nausea makes it difficult to eat properly, or if you have to take your treatment with certain types of food.